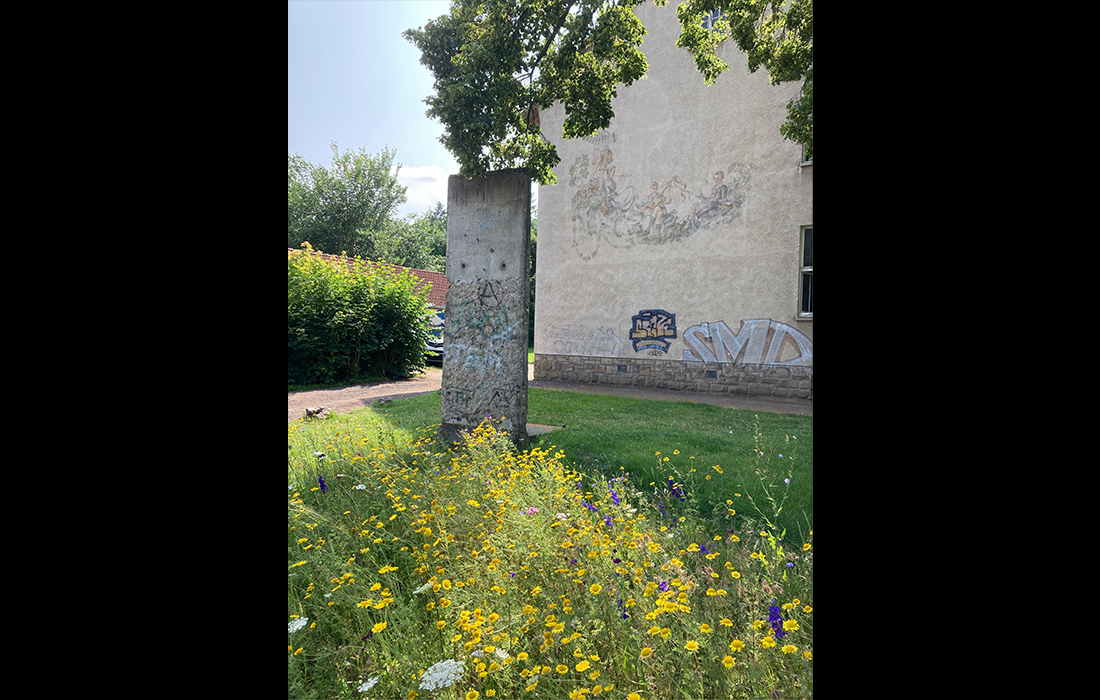 Lovation: At the Eichbergschule
1 segment
During the Cold War, numerous West German cities and municipalities entered into partnerships with Berlin boroughs. Lauterbach's friendship and partnership with the Berlin district of Reinickendorf dates back to 1964 and also includes a school partnership. Due to a territorial reform, this partnership was continued from 1973 by the Vogelsberg district, including the city of Alsfeld, which also set up a wall segment.
Over the years, many Berlin children and seniors took advantage of these connections to the West in order to get away from the limited living and experience of Berlin. Conversely, West Germans used the partnerships to travel to Berlin.
As a sign of this close bond, the people of Reinickendorf presented the people of Lauterbach a typical Berlin Litfass column in 1978. After German reunification, a segment of the Berlin Wall was placed next to the Litfass column to commemorate this chapter of German-German history, which was also experienced through a school partnership.
The Wall segment, which came to Lauterbach in 1991, originates from the Brandenburg district of Oberhavel, the former GDR district of Oranienburg, which was separated from Berlin-Reinickendorf by the Wall.
Click to enlarge:
Photo above and background:
© Rainer-Hans Vollmöller, Mayor of Lauterbach