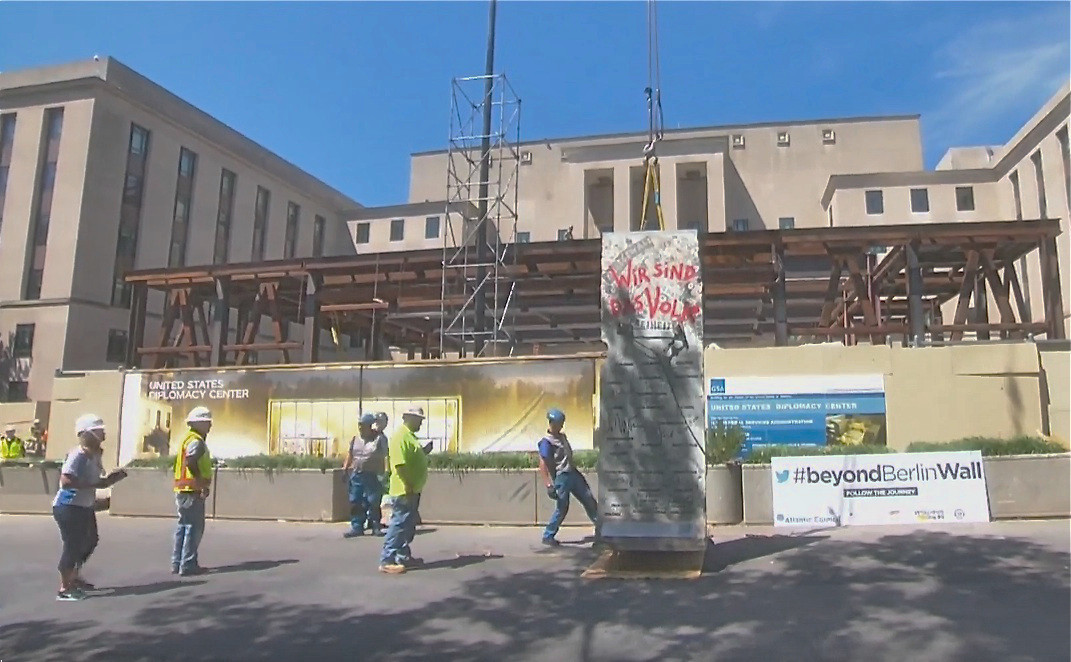 Location: United States Diplomacy Center (scheduled to open in 2017)
1 segment
Widely travelled and frequently displayed with signatures of the main protagonists – George H.W. Bush, Mikhail Gortbachev, Helmut Kohl, Francois Mitterrand, James Baker, Angela Merkel, Lech Walesa and many others: the Signature Segment has found an honorable home in the Museum of the U.S. Diplomacy.
The most important stages of the Wall segment before: In 2009 it was akquired by the Leipziger Verbundnetz AG, a regional energy supplier. From 2010 it was exhibited in numerous European cities. In 2014 it was donated to the Atlantic Council and was shipped from Leipzig to Washington. For nearly a year it has been standing at the German Embassy. Finally on the occassion of the 25th anniversary of the German reunification it was set up in the U.S. Diplomacy Center.
The United States Diplomacy Center is a state-of-the-art museum which will tell the story of American diplomacy and invite visitors to explore the impact of diplomacy on their lives. The Signature Segment serves as a permanent reminder of the strong bonds of the transatlantic alliance that maintain a Europe that is whole, free and at peace. What one stood as a symbol of division, isolation and repression is now a testament to the strength of diplomacy and the courage and triumph of freedom-loving people. The U.S. Diplomacy Center was inaugurated in January 2017.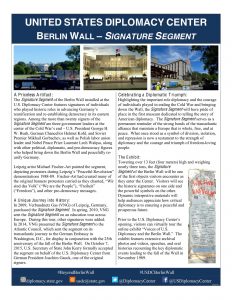 Visitors of the USDC can virtually tour the online exhibit Voices of U.S. Diplomacy and the Berlin Wall. The exhibit features extensive archival photos and videos, speeches and oral histories recounting the key diplomatic events leading to the fall of the Wall in November 1989.
Secretary of State John Carry and German President Joachim Gauck commemorated the arrival of the Berlin Wall segment and celebrated the transatlantic friendship in a ceremony held on October 7th 2015. The U.S. State Department has made excerpts available at YouTube.
Photo above and background:
© Still from YouTube Clip