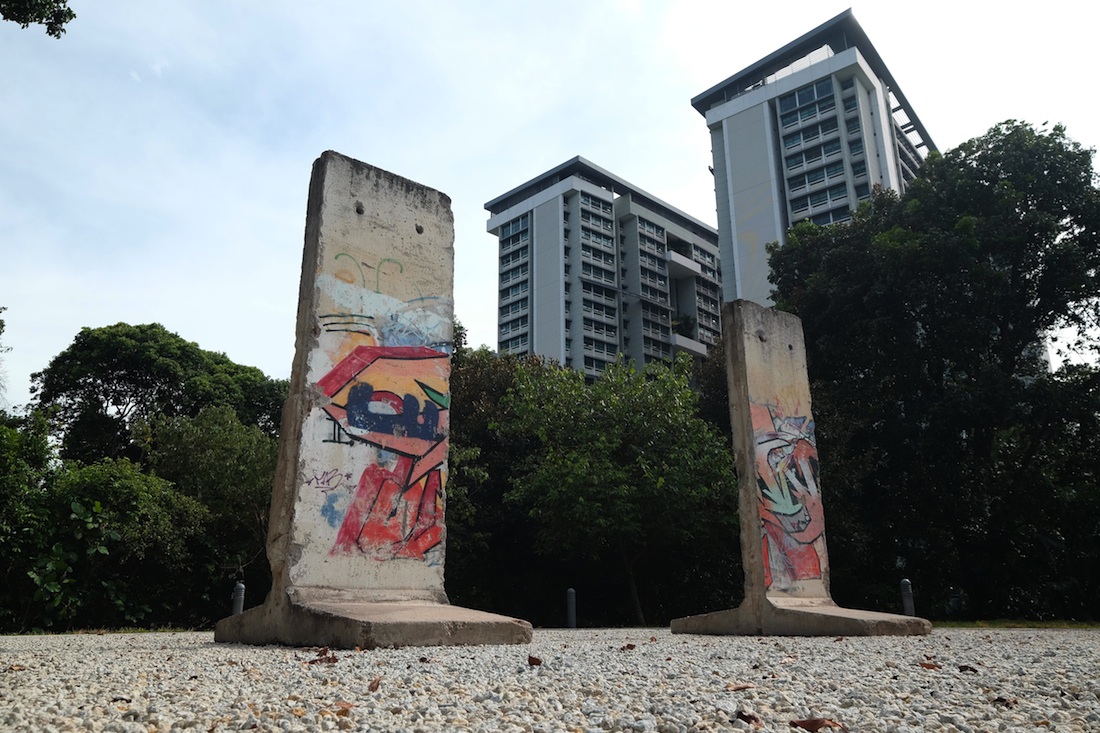 Location: University Town, National University of Singapore
2 segments
https://www.youtube.com/watch?v=OU2PrwXJtgk
These two segments of the Berlin Wall were donated in 2015 by Mr Elmar Prost (Lagerhaus KW GmbH) to the Singapore Government to mark 50 years of diplomatic relations between Singapore and Germany. They are on loan to the National University of Singapore (NUS) through the Singapore Ministry of Foreign Affairs and are currently the only Berlin Wall segments in Singapore.
These walls are on display at NUS University Town and were officially unveiled by Dr Vivian Balakrishnan, Singapore Minister for Foreign Affairs; His Excellency Dr Michael Witter, Ambassador of the Federal Republic of Germany to Singapore; and Professor Tommy Koh, Rector of Tembusu College at NUS on 18 October 2016. A Tembusu Forum on the historical significance of the Cold War was held in conjunction with the unveiling at Tembusu College.
The NUS University Town, or UTown for short, is an educational hub complete with residential spaces and learning facilities. Having these Cold War artefacts in UTown adds to the lively intellectual, social and cultural environment of the University and its aim for excellence in learning and student engagement. (Text: National University of Singapore)
Balakrishnan said in his opening remarks: I hope these two artefacts will continue to inspire the next generation to believe in an open world. (..) Because ideas in fact derive their value not by scarcity but by being shared.
Click to enlarge:
Photo above and background:
© by National University of Singapore