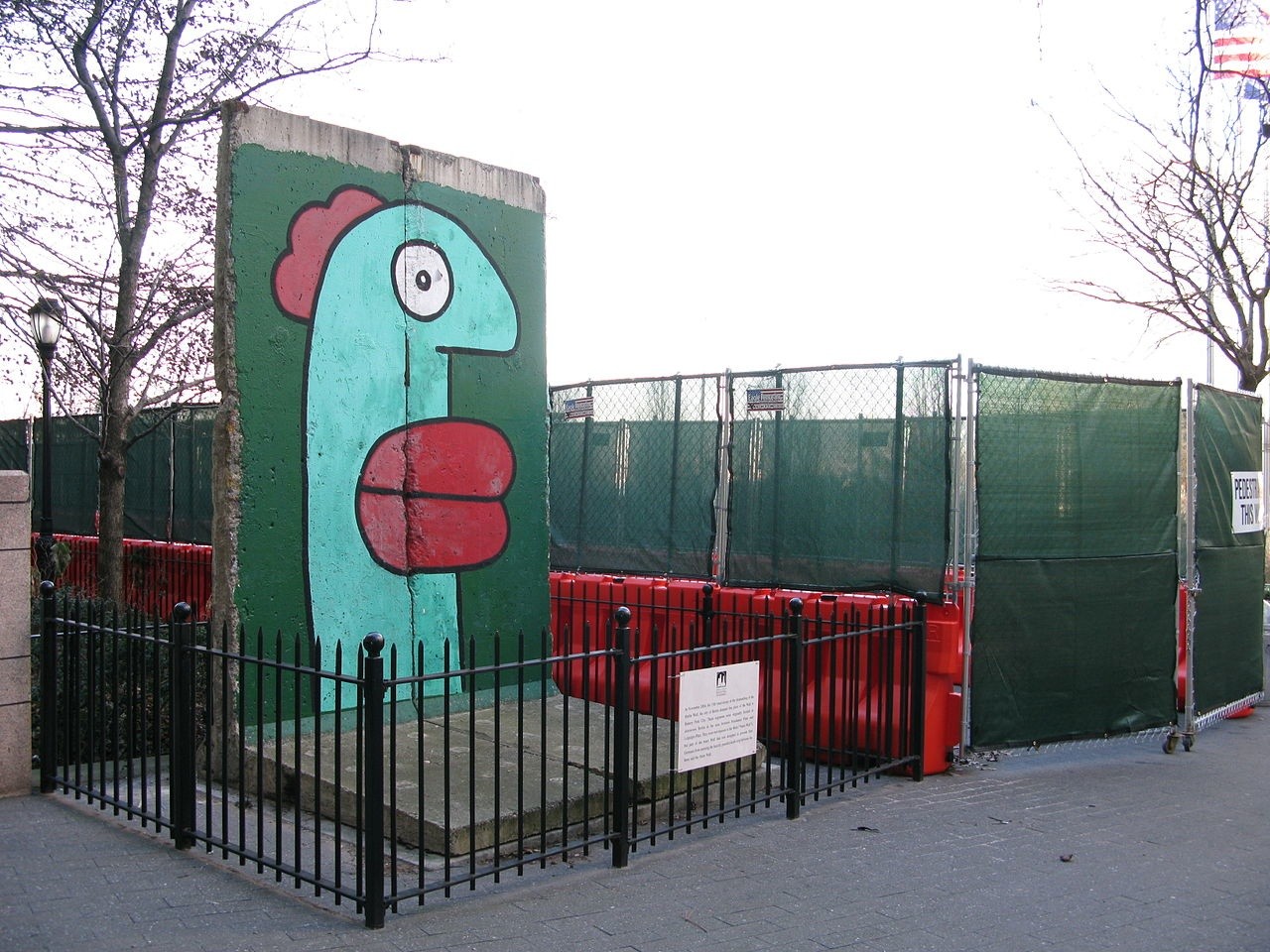 Location: Battery Park, Manhattan
2 segments from Potsdamer Platz
In November 2004 a friendship concert by the Juilliard School Conservatory of Music and the Berlin Hochschule für Musik Hanns Eisler took place in the New Yorker Battery Park in view of the Statue of Liberty. Motto: policy is building walls – music is uniting. On this occasion, two Wall segments from Potsdamer Platz (donated by the Berlin Senate) were set up as a sign of solidarity.
Plaque inscription: In November 2004, the 15th Anniversary of the dismantling of the Berlin Wall, the city of Berlin donated this piece of the Wall to Battery Park City. These segments were located in downtown Berlin in the area between Potsdamer Platz and Leipziger Platz. They were not exposed to the West ('Outer Wall') but part of the Inner Wall designed to East Germans from entering the heavily guarded death strip between the Inner and Outer Wall. – Battery Park City Authority
It was Tanya Dorn, artistic director at the piano house in New York, who came up with the idea of this project. The Graffito is by Thierry Noir.
With an exciting and interesting video project, the Canadian artists Vid Ingelevics and Blake Fitzpatrick try to capture the tension between the past and the present: Freedom Rocks – the everyday life of the Berlin Wall in a contemporary post-Cold War context:
Sites: Battery Park City, New York from Vid Ingelevics on Vimeo. Licensed under CC BY-NC-ND 3.0
Click to enlarge:
Photo above and background:
"Segment of Berlin wall in New YorkCity" by Ronny-Bonny. Licensed under CC BY 3.0 via Wikimedia Commons.