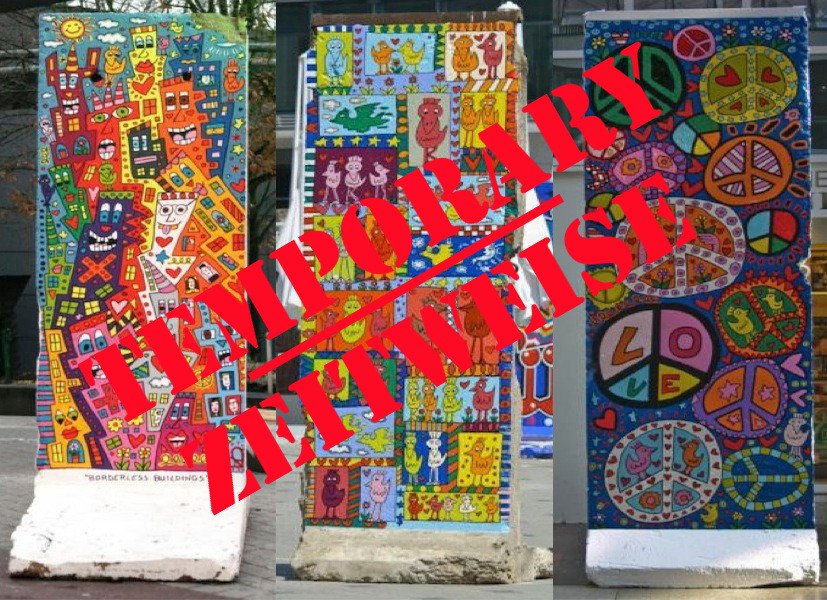 Location: various
3 segments
James Rizzi (1950 – 2011) was an international renown pop art artist. His works often focused on New York and its citizens. His paintings mostly are of naive simplicity, rich in colour, with a distinct air of cheerfulness, urban vitalty and optimism.
Rizzi opposed the Vietnam War even as a student and had a special relationship with the Berlin Wall. Shortly after the border opening, he and his father were wall-peckers (Mauerspechte). On occasion of his 60th anniversary, he got the chance to paint an original segment of the Berlin Wall in his unique style. One side of the Wall was deliberately painted white as it was to be seen from the GDR side.
The Rizzi Wall pieces (Borderless Buildings, Free as a Bird, In the Spirit of Peace) were initially exhibited in Bremen. After Rizzi's death they were temporary displayed in various citys in Germany, mostly in the context of an extensive retrospective.
Bremen, Messezentrum, May – July 2010
Oberhausen, CentrO, October 2010
Mainz, Frankfurter Hof, July/August 2014
Oberlindhardt, Galerie Zettl, November – March, 2014/15
Rust, Europa-Park, November – January, 2015/16
Bad Soden, Galerie am Dom – November 2016
Neumarkt i.d.OPf., Rathaus + Neuer Markt – March – October 2017 (exhibition in September/October)
Karlsruhe, art Karlsruhe – February 2018
Neuburg, Spitalplatz – March/April 2020
Balingen, Marktplatz/Rathaus – July/August 2020
Click to enlarge:
Photo above and background:
© James Rizzi/Art Licensing Inc. GmbH