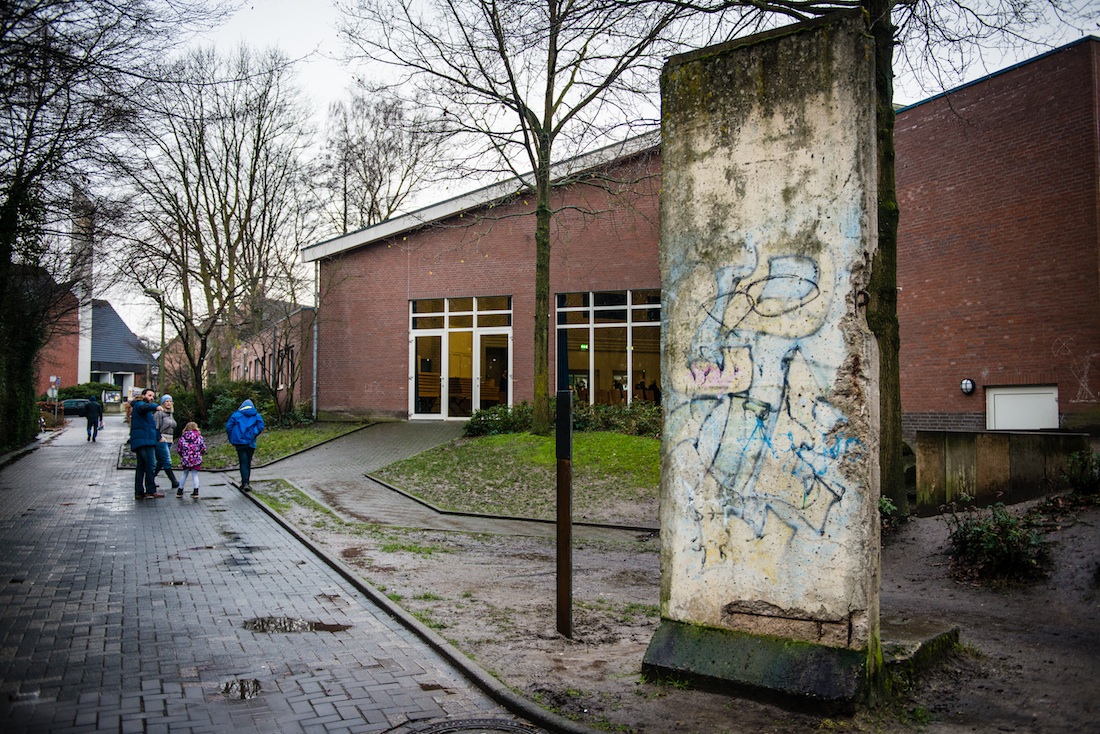 Location: close to the Anne-Frank-School
1 segment
It was even before November 9th 1989 when the Council of the Westphalian municipality Havixbeck, located in the western Muensterland, intented to partner with a community in the other part of Germany. The opening of the Berlin Wall gave this desire a whole new dimension. By the Federation of Municipal Authorities Havixbeck came together quickly with the community of Bestensee in Brandenburg and maintains a lively exchange since then.
Since 1991 a Wall segment is symbolising this partnerhip in Havixbeck. Originally it was set up next to the fire station, later it was moved to the brink of the school ground. The segment is a gift of the 3rd battery of armored brigade battalion 195 from Handorf. Units of the German Bundeswehr were involved in the demolition of the border fortifications after reunification.
The quote by John F. Kennedy on a stele next to the Wall segment was choosen by a history class, to attract citizen's and visitor's attention and to give them food for thoughts. It was taken from a letter by Kennedy to Willy Brandt in 1961: "A wall is a hell of a lot better than a war."
The stele was officially inaugurated in March 2016 on the occasion of the visit of exchange students from the U.S.
Click to enlarge:
Photo above and background:
© Thomas Mohn