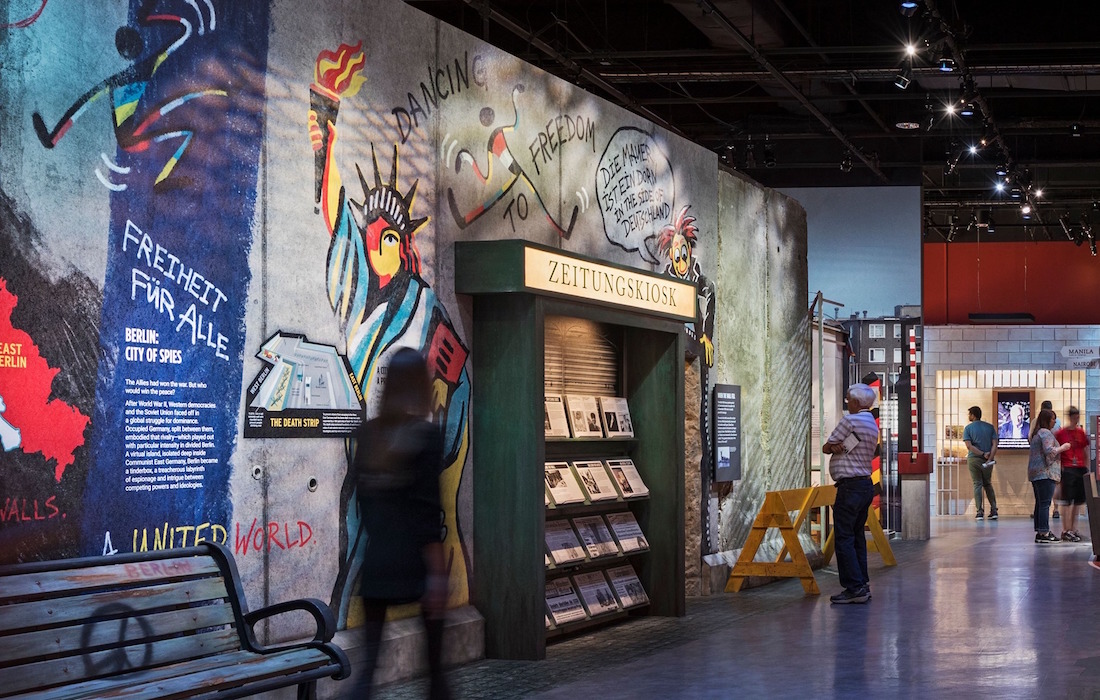 Location: International Spy Museum, L'Enfant Plaza
2 segments from border section Glienicke-Nordbahn/Reinickendorf
Two segments of the Berlin Wall are on display in the International Spy Museum in Washington D.C., which opened in 2019. The espionage museum is dedicated to the secret services, their activities and their importance to the everyday life of the citizens.
The exhibition area of ​​the museum, which was founded in 2002, has almost doubled to 13,000 square meters due to the move to the new building at L'Enfant Plaza. The exhibition comprises around 7,000 exhibit pieces. The two wall segments are embedded into the context of the Espionage-Berlin-Cold War.
The two segments were a donation from the Oberhavel district (formerly located in the GDR), who in turn acquired them for a symbolic price from the Grunske demolition company. This firm was involved along with many other companies in the demolition of the inner German barriers.
During the loading of the segments, the incumbent District Administrator Ludger Weskamp said: "It is a great honor for the district that the two parts of the Wall from Oberhavel can in future be seen in the heart of the American capital. They are representatives of an important part of German-German history. They remind us of the terrible consequences of World War II, of division and violence – and ultimately of peaceful change and the rapprochement of the European Countries."
Click to enlarge:
Photo above and background:
© International Spy Museum