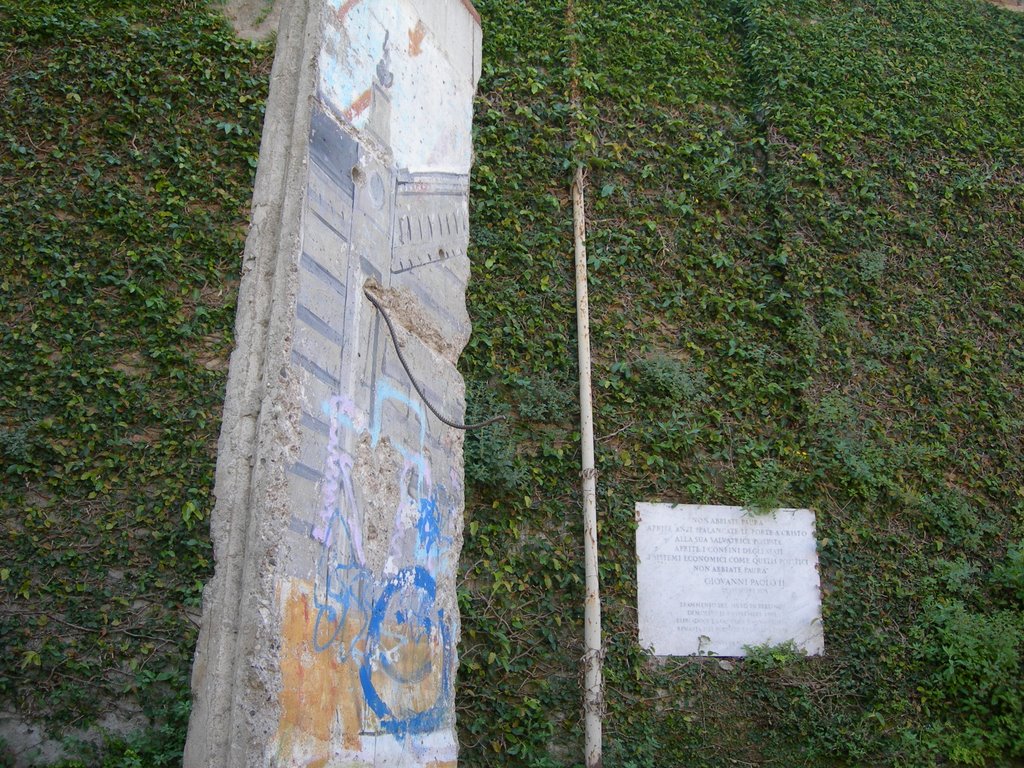 Location: at the edges of Vatican Gardens
1 segment from Waldemarstraße
Born in Rome in 1952, Marco Piccininni descended from a prestigious industrial family with good contacts into the Vatican. Thus, it is well to explain that Piccininni donated a segment, which he auctioned in Monte Carlo in 1990, to Pope John Paul II in the same year. The latter finally had a very special relationship to the Wall: Pope John Paul II had significant influence on the beginning of the end of communist rule in Eastern Europe.
Piccininni's gift was erected a few years later just outside the Vatican Gardens.
This segment has most likely its price in Monte Carlo: It shows a part of a work by the Iranian artist Yadegar Asisi, who is currently best known for his panoramas.
The church community of St. Michael was divided by the Wall. For the majority of the parishioners their church was no longer accessible because it was beyond the Wall, in the eastern part of Berlin. The illusionistic painting replaces the restrained view by the Wall to the St. Michael's Church in today's Friedrichshain-Kreuzberg.
More information and a photo of the segment can be found here.
Click to enlarge:
Photo above and background:
© Roberto Addei, CC BY NC ND 3.0 via Panoramio