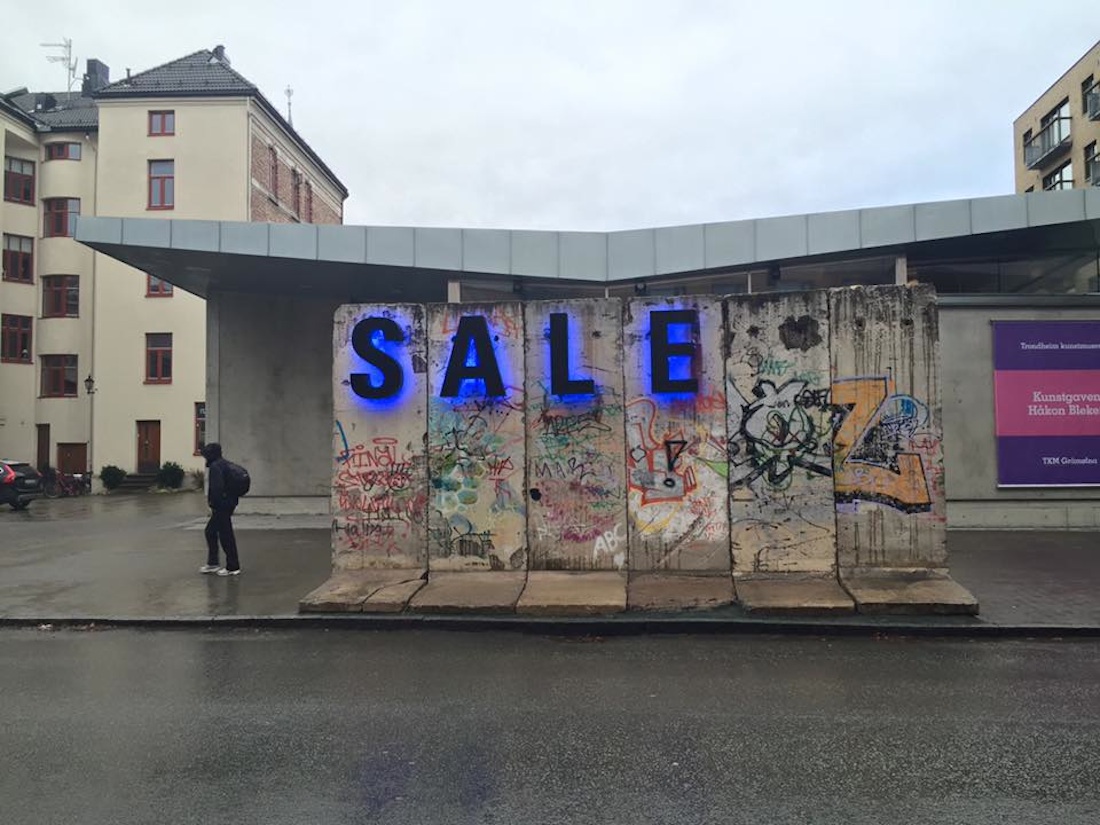 Location: Trondheim Kunstmuseum Gråmølna
6 segments
On the 26th anniversary of the fall of the Berlin Wall, Trondheim municipality has commissioned the artist Lars Ø Ramberg to make a permanent sculpture outside of the venue Gråmølna at Trondheim kunstmuseum. Lars Ø Ramberg is a Norwegian artist living in Berlin. He is one of the most internationally acclaimed artists of our time.
"Kapitalistischer Realismus" – This work title is a tribute to the concept "Kapitalistischer Realismus" of the artists Gerhard Richter, Sigmar Polke, Konrad Fischer, and Manfred Kuttner. Their paintings were ironic comments and criticized the increasing consumerism of the German society in the 1960s. In 1961, Richter fled from the GDR to Düsseldorf, the same year, the Wall was built as an "anti-imperialistic defense wall".
The conceptual art work for Trondheim "Kapitalistischer Realismus" deals with the present ambivalence between idealism and capitalism, between the administration of our historical heritage and new seductive market values. Today, cultural institutions are judged by their marketing and number of visitors – and artists are judged by their sense of entrepreneurship.
The Trondheim art museum Gråmølna, with the six segments of the Berlin Wall in front of it now, was formerly used as soup kitchen for poor dock workers, afterwards as police station. Today, the port district is transformed by the construction of luxury apartments and associated boat jetties. The place was renamed from Gråmølna (gray mill) to Solsiden (sunny side).
The Berlin Wall has changed from a symbol of the Cold War to a symbol of freedom. The fall of the Berlin Wall represents a reunited Germany and a united Europe. In spite of the historical value of the still existing remains of the Berlin Wall in situ, and even though protected as a monument, companies are allowed to remove parts of the Wall along the river Spree. Today, the Wall, in my view, no longer symbolizes freedom but the venality of the symbolic value of this freedom like a kind of echo of itself. In order to ilustrate this problem, I myself became a buyer of the Wall and so to speak a "part of the problem". (Text: Lars Ø. Ramberg)
Click to enlarge:
Photo above and background:
© Lars Ø Ramberg