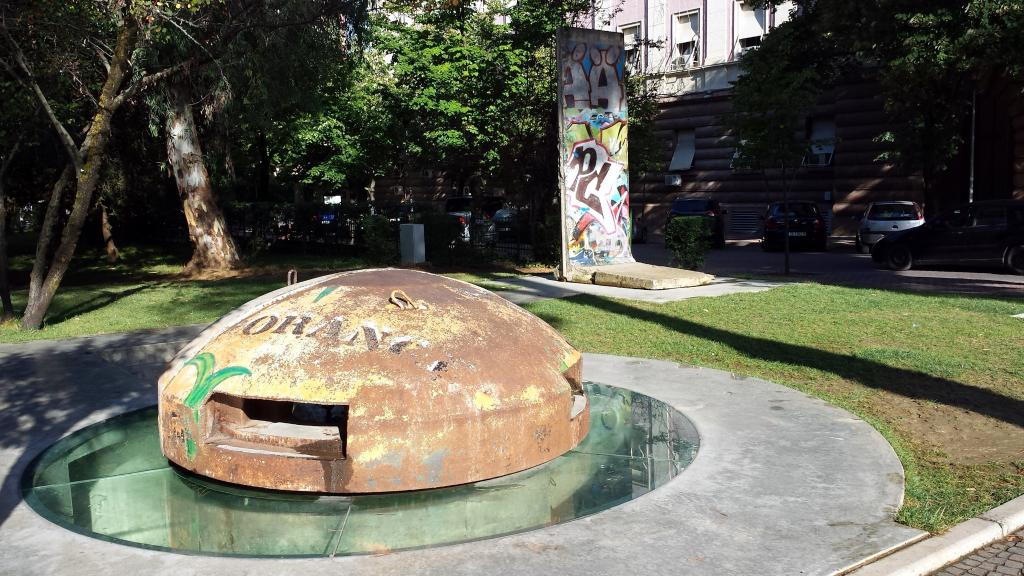 Location: Post-bllok/Bulevardi Dëshmorët e Kombit
1 segment from Potsdamer Platz
The Dëshmorët e Kombit Boulevard (Albanian for Boulevard of the Martyrs of the Nation) is an avenue of the Albanian capital Tirana. Here are some ministries located, as well as the National Gallery, the Pyramid of Tirana, the University and smaller parks. At the southern end of the boulevard is the memorial post bllok, which commemorates the victims of communism.
Post-bllok consists of columns from a mine labor camp, a bunker and a segment of the Berlin Wall. The Wall segment is a gift from the city of Berlin to the citizens of Albania and was transferred to Tirana on the initiative of the Bundesstiftung Aufarbeitung der SED-Diktatur.
Photos of the inauguration of the memorial in March 2013 can be seen here.
Click to enlarge:

Photo above and background:
Segment of Berlin Wall in Tirana, Albania, right next to one of Hoxha's 700 thousand bunkers. © by Mateusz Zatonski