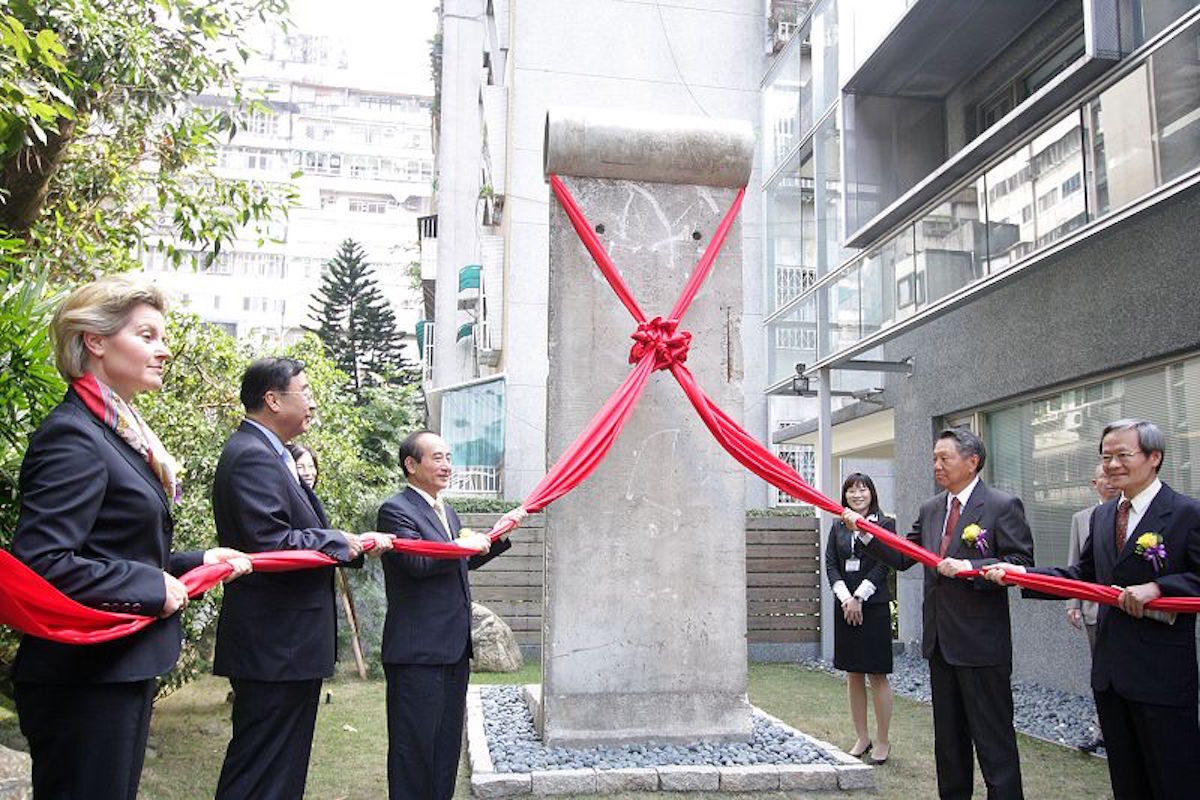 Location: in the garden of Taiwan Foundation for Democracy
1 segment
Despite a civilian government, until 1987, Taiwan's military rule was a result of changing history: From the end of the 19th century until the end of World War II, the island state was a Japanese colony, then occupied by China. In 1947, there was a popular uprising and bloody crackdown by the Chinese military. Subsequently, a civil government was established.
The Taiwan Foundation for Democracy, in which all relevant social groups are represented, was set up in 2002 by the government. The Foundation is responsible for the consolidation of democratic development, builds international contacts, supports programs of NGOs and academic institutions, is based on well-developed democracies around the world and provides support to interested countries in the Asian region.
The Taiwan Foundation for Democracy is supported in its efforts since 2009 by a Wall segment as a symbol for the success of a peaceful revolution. At the unveiling ceremony on 9 November 2009 TFD Chairman and Speaker of the Legislative Yuan Wang Jin-pyng and Memorial Foundation for 228 Chairman Chan Chi-shean expressed the deep significance of the Wall as a symbol of democracy, human rights, and freedom. They also thanked the Landrat of Oberhavel County, Mr. Karl-Heinz Shröter, for his generous donation of the wall segment to the people of Taiwan as a symbol of their pursuit of these universal values.
In his speech, Chairman Wang stated, "Now, twenty years to the day after it fell, the Berlin Wall is standing here before the people of Taiwan. In this temporary placement in the TFD's garden, it fits quite well with our original display of works by the renowned Taiwanese sculptor Ju Ming. Here, the Wall which symbolizes the pursuit of democracy, freedom, and human rights meets the statues of Tai Chi, which are full of harmony. It is my fondest wish that the people of Taiwan will be blessed with harmony as we continue to develop our democracy." (click to view press release)
click to enlarge:
Photo above and background:
© by RICK YI, TAIWAN NEWS via Taiwan Foundation for Democracy