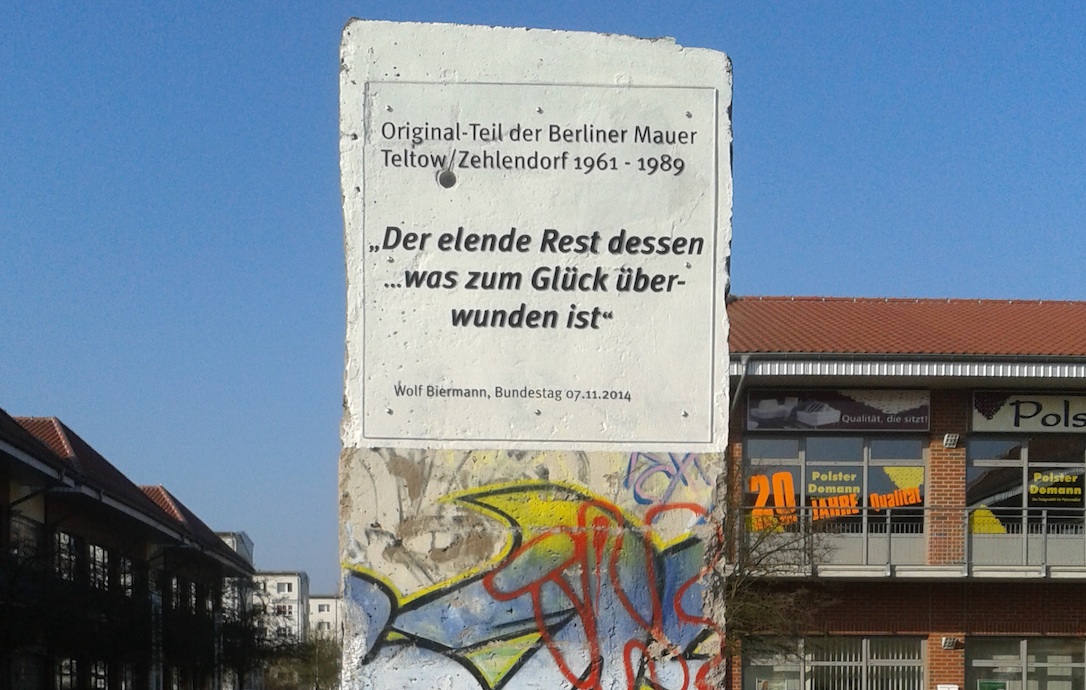 Location: at the Nordcenter
1 segment from a border section at Teltowkanal
Since autumn 2014 a Wall segment is standing clearly visible at a shopping center in Schwedt/Oder. The owner declares:
Varied reasons inspired me to acquire and set up the Wall segment. The main point was the missing GDR reappraisal in the history classes of my almost grown up boys in the local grammar school. As well as the blissful sympathy of some parts of our fellow citizens for left-wing and communstic rhetoric policy. Therefore I have mounted a plaque with a quote from Wolf Biermann*, taken from his speech given in German Parliament. I wanted the passersby and the center visitors to stop, to reflect, to remind and to discuss.
The continuing defamation of every sympathy for the German Nation by left-wing media led me to mount another plaque on the other side of the Wall segment, which shows a quote from former communist leader Ernst Thälmann**. Fortunately until today, locals and visitors are often standing in front of this Wall segment and are reflecting the monument in whatever form.
Click to enlarge:
* Wolf Biermann, born 1936 in Hamburg, songwriter and poet, migrated to the GDR in 1953. Due to his permanent criticism of the SED dictatorship, the GDR refused Biermann's return while he was on tour in West-Germany and expatrioted him in 1976.
** Ernst Thälmann, born 1886 in Hamburg, killed 1944 in KZ Buchenwald. From 1924 to 1933 Chairman of the Communist Party of Germany, member of the Reichstag and leader of the Roter Frontkämpferbund. Was arrested in 1933 two days before the election of the Reichstag and was shot in the concentration camp Buchenwald after being in solitary confinement for eleven years.
Photo above and background:
© Harald Sassenhagen