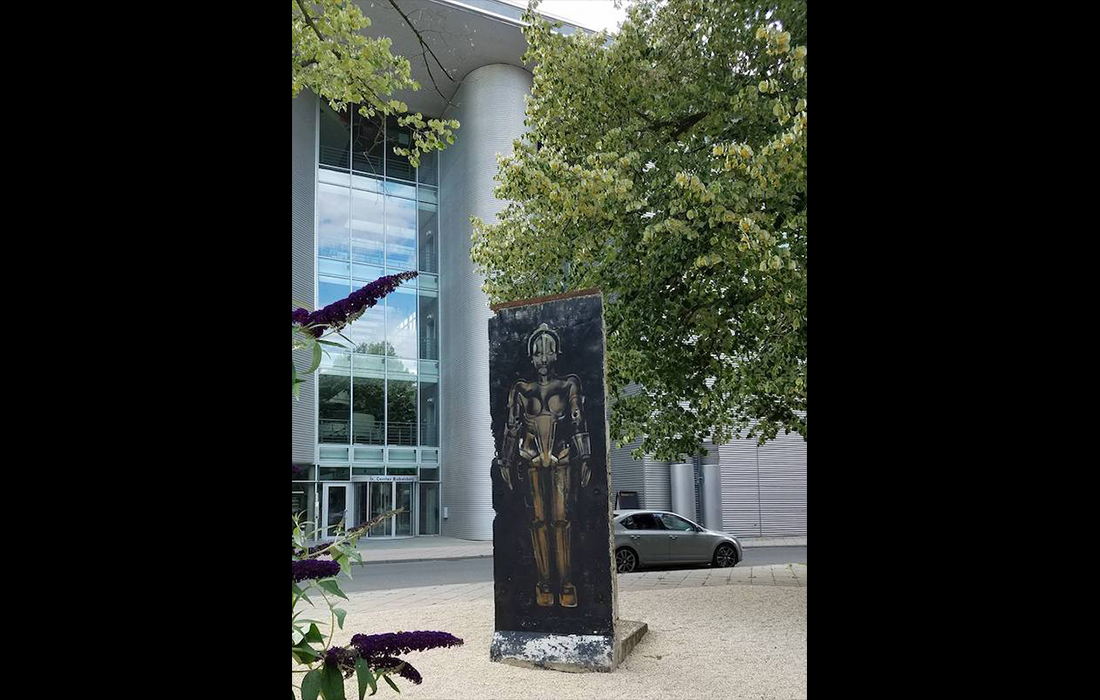 Location: On the grounds of Filmpark Babelsberg
1 segment
As part of a charity campaign, a segment of the Berlin Wall was set up in the Filmpark Babelsberg. Although there are other segments resp. an entire section of the Berlin Wall, they are replicas and serve as a film set.
This original segment is standing opposite the entrance to the fx.center at the corner of Quentin-Tarantino-/G.-W.-Papst-Strasse.
The mural on the segment is a reminiscence of the machine woman Maria from Fritz Lang's film Metropolis, which was made here, among other locations, on the site in 1925/26. Europe's largest film studio of the time was especially built for Metropolis. The now called Marlene Dietrich Hall is still used today by national and international productions.
Studio Babelsberg is the oldest film studio in the world; a clapperboard fell here for the first time in 1912. From 1917, the studio operated as Universal Film AG, or UFA for short, but came to the brink of ruin due to the economic recessions of the 1920s.
 After the Nazis came into power, filming was carried out under the supervision of the Ministerium für Volksaufklärung und Propaganda.
In May 1946, a clapperboard fell again for the first time after World War II, and shortly thereafter the deutsch-sowjetische Film AG, or DEFA for short, was founded. The studio became the exclusive location for feature film productions in the GDR and, with around 2,500 employees, advanced to be one of the largest employers in the region. By 1990, more than 1,200 television and feature films had been produced here.
After several rebrandings in the post-reunification period and expansions with a surrounding media city, Studio Babelsberg is now one of the leading locations for the production of feature films and television productions in Europe. (Source: Studio Babelsberg AG)
Photo above and background:
© by John Solder/Facebook