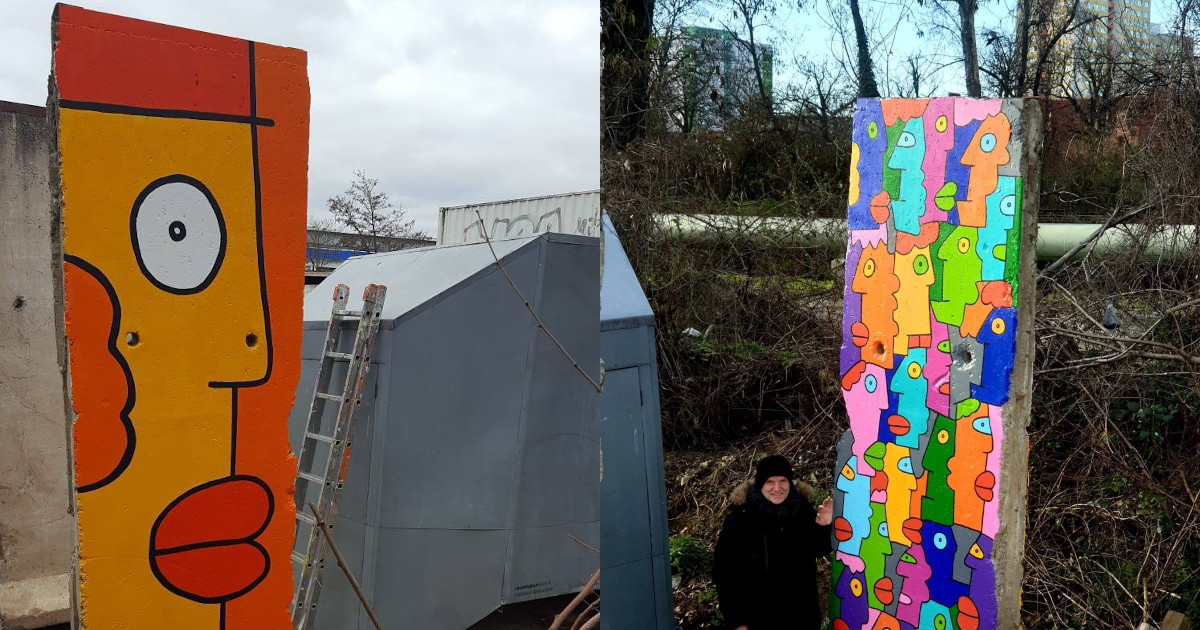 Location: Exhibition Hall, Gladstone Street
1 segment
In 2019, the Bulgarian Plovdiv had been European Capital of Culture. The extensive cultural program began with an exhibition of painted Berlin Wall fragments.
When Sylvestre Verger and Thierry Noir set up the exhibition by Art Liberté, they came up with the idea, to let a monument for peace and tolerance in Plovdiv on this year of the 30th anniversary of the fall of the Berlin Wall.
Finally, their idea became part of the closing event and a segment, painted by Thierry Noir, was set up in December 2019 in front of Plovdiv's Exhibition Hall. It was unveiled by former President Petar Stoyanov, Plovdiv mayor Zdravko Dimitrov and German ambassador Christoph Eichhorn.
"It will remain in front of Exhibition Hall 2019 and, subsequently, will become the basis for the creation of a monument commemorating the Freedom of New Europe," the Plovdiv 2019 Foundation said.
A fragment from the Berlin Wall, specially painted by the iconic artist Thierry Noir, is coming to ?￰゚ヌᆲ Plovdiv – European Capital of Culture 2019 and will remain here forever.
December 19, 4:00 pm
The space in front of 2019 Gallery pic.twitter.com/Hwtxu20k4c

— Plovdiv 2019 (@Plovdiv2019) December 18, 2019
Photo above and background:
© Plovdiv2019/Twitter