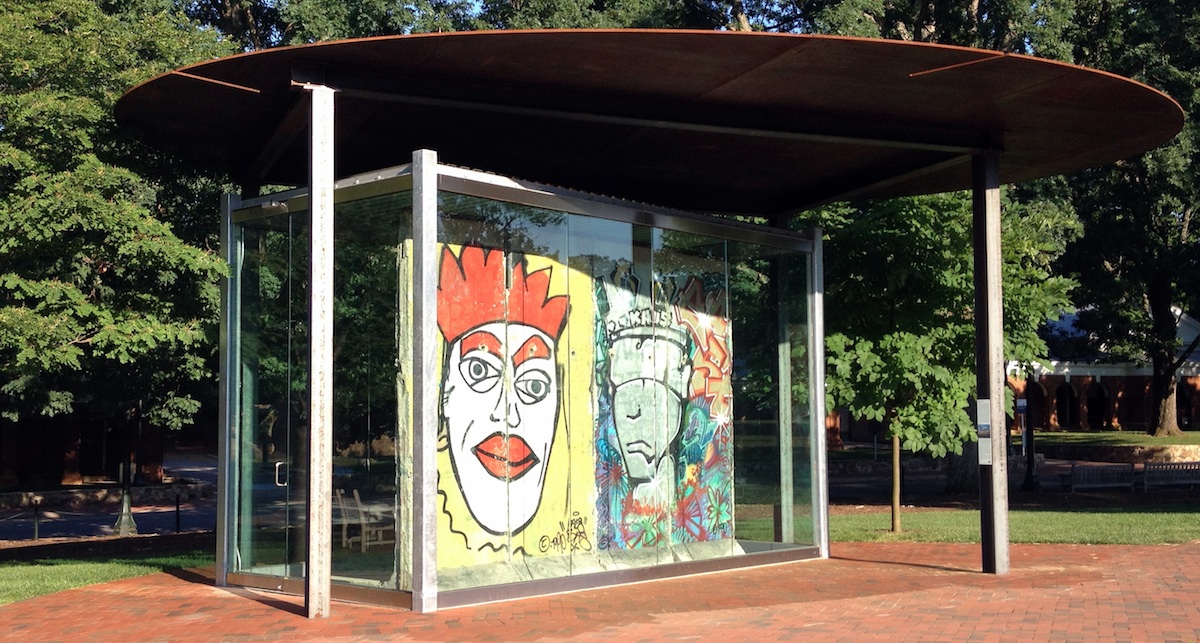 Location: University of Virginia
4 segments
Robert Hefner III. is an art lover and patron of the arts, owner of the Hefner Galleries, but above all chairman of the GHK Company, a family-owned company that has made a fortune with the oil and gas reserves in Oklahoma and Kansas.
Fascinated by the events, he sent Jon Burris, curator of Hefner galleries, to Berlin in March 1990. His mission: to buy as much of the Berlin Wall as possible.
The result: He was aible to buy only four segments. But these four segments came along with a graffiti by Dennis Kaun aka Kaos: Kings of Freedom. Kaos is one of the world famoust Wall artists. Hefner has paid therefore a high six-figure amount as it is reported. Whether or not Kaos was paid is unknown.
In 1990, the wall segments were initially displayed in Oklahoma City, in the former Kirkpatrick Science and Air Space Museum, now called Science Museum. When Robert Hefner and his wife MeiLi moved to Singapore, the Wall segments moved too. In Singapore the segments were setup on a dedicated public square, the Berlin Square.
In 2014, when Hefner retired, he moved back to the States, to Virginia and so did the Wall segments. Now Kings of Freedom is a permanent loan to the Virginia University in Charlettesville.
click to enlarge:
Photo above and background:
© by Sarah. Licensed under CC BY-NC-SA 2.0