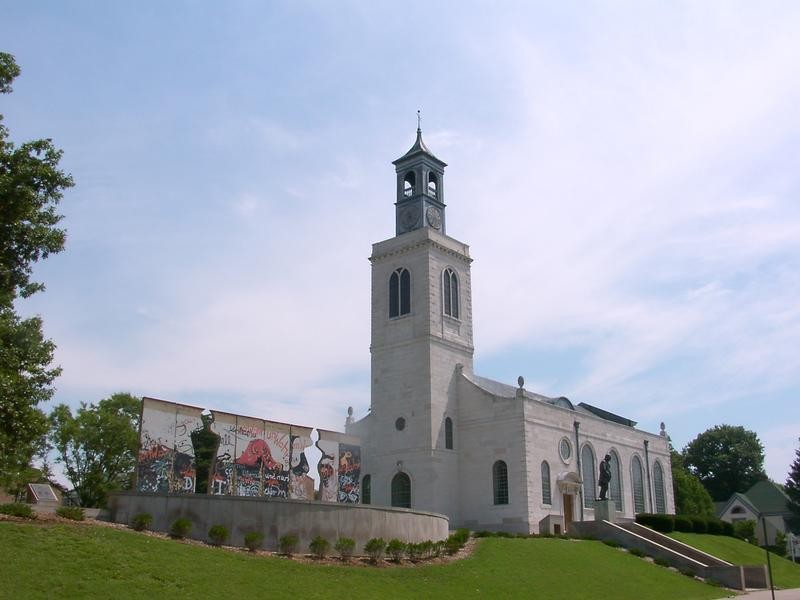 Location: Winston Churchill Memorial Library, Westminster College
8 segments from Brandenburg Gate
Edwina Sandys is a New York based painter, sculptor, artist and granddaughter of Winston Churchill. The latter coined in his Fulton speech in March 1946, the concept of the Iron Curtain.
In 1990, Edwina Sandys was allowed by order of the East German government to choose eight wall segments that previously were standing at the Brandenburg Gate and to turn them into a freedom monument, the Breakthrough.
Initially the monument went on tour through the States. On occasion of the first anniversary of the fall of the Wall, on November 1,1990, it was erected on its final location, attended by US President Ronald Reagan and Kremlin leader Mikhail Gorbachev.
Freedom From Fear is another scultpure by Edwina Sandys and is displayed in Franklin D. Roosevelt Library and Museum in Hyde Park, north of New York City. That one is the cutting of the sculpture here.
Click to enlarge:
Photo above and background:
"Churchwall" by Original uploader was Rangermike at en.wikipedia – Transferred from en.wikipedia; transferred to Commons by User:Oxyman using CommonsHelper.. Licensed under CC BY-SA 3.0 via Wikimedia Commons.