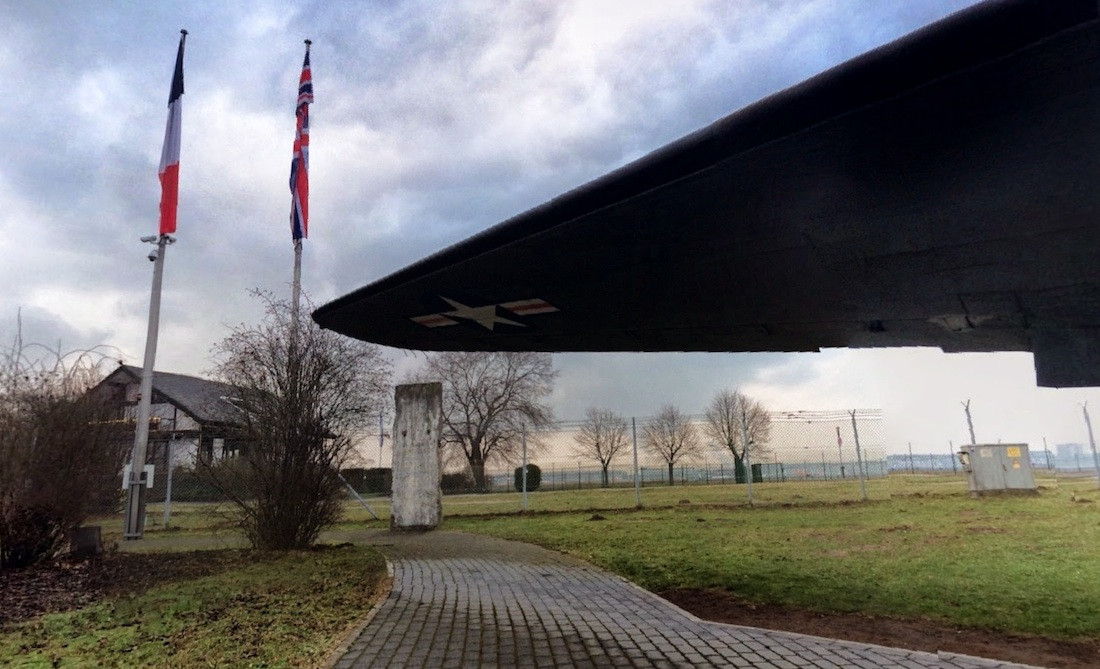 Location: Rhein Main Base
1 segment
The Airlift Memorial in Frankfurt/Main was opened on June 26, 1985, the thirty-seventh anniversary of the beginning of the Airlift to Berlin. In 2008, after the complete withdrawal of U.S. Air Force, the entire area was redesigned and the aircrafts were restored by the Fraport AG.
The center of the entire area is the sculpture of a bridge arch made of concrete, whose three rays are symbolizing the three air corridors to Berlin. The pedestal contains a memorial for the victims. A counterpart to this memorial is at the Berlin Tempelhof Airport (built in 1951) and in smaller form in Celle.
On the memorial site are a Douglas C-47 and a Douglas C-55 exhibited, which were used during the airlift. The aircrafts can only be viewed from the outside.(Source)
On the edge of the monument ensemble is a segment of the Berlin Wall, which symbolizes the end of the German division.
The Rhine Main Base of the US Air Force, the main supply base of the Berlin Airlift, was closed in 2005, personnel and parts of the facility had been relocated to Ramstein Air Base, the headquarters of the US Air Force in Europe.

Photo above and background:
© by Thorsten Schulz via Google Maps