Between the big stage of politics and the short stories of everyday life, there are all sorts of witnesses who even left traces in time. A random selection of individuals and institutions, who got to attention for very different reasons in the course of the research (use the names as search strings to see the sites where they are belonging to):
Artists
The night-work on the walls, mostly in the glow of torches, was not without danger. Not so much because it was forbidden, but rather because the Wall was a strictly guarded state property and also on the west side a small stripe in front of the Wall was already GDR territory. Constantly you had to expect surveillance, threatening or even imprisonment. There were small doors in the Wall, that could be used by the GDR guards to get to the other side.
Deconstructors
Vendors
What exactly happened in November 1989 – historians have to explore more thoroughly and try to explain. Anyway, many were surprised by the sudden fall of the Wall, and the sudden onset of demand for parts of the border fortifications, especially of the Wall.
Initially, requests were quickly sent to the GDR Ministry of Foreign Trade, to the KoKo empire of Alexander Schalk Golodkowski, chief foreign exchange buyer.
Golodkowski tasked the West experienced construction company LIMEX to take care of the supposedly big business, henceforth.
For the US business LIMEX cooperated with the BCG (see below) as a reliable partner from the end of 1989. Private inquiries from Europe and the rest of the world were entrusted to the specifically founded LeLé Berlin Wall Verkaufs- und Wirtschaftswerbung GmbH in West Berlin. The 'big picture' and requests of institutional buyers were reserved to LIMEX. At the same time, when the demolition of the Berlin Wall began, some of the involved firms sold Wall segments on their own account. Furthermore Wall segments disappeared in cloak-and-dagger operations…
As of October 1990, the responsibility was transferred to the Federal Republic of Germany, the German Defense Ministry was now in charge, and the German Budeswehr was tasked with the demolition. Any requests were forwarded to Bonn, while the US City Commander safeguarded the interests of the United States.
Vendees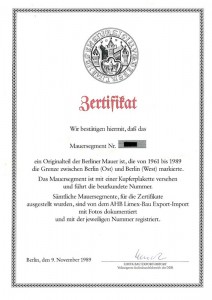 Photo:
© by "BrandenburgerTorDezember1989" by SSGT F. Lee Corkran – DoD photo, USA. Licensed under Public Domain via Wikimedia Commons..