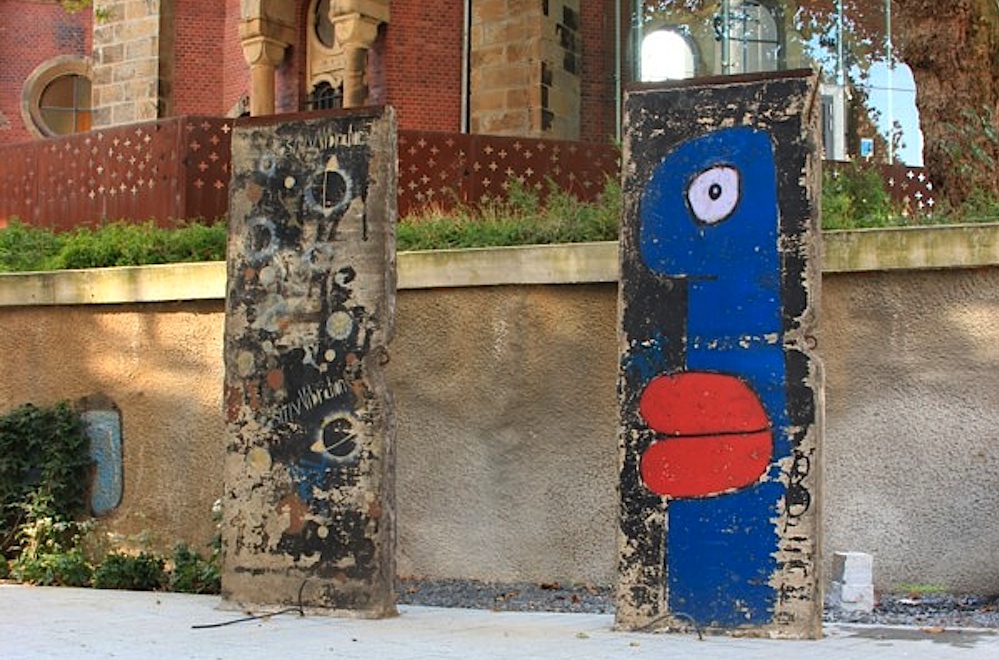 Location: in front of the Kreuzeskirche
2 segments
The Essener Kreuzeskirche is a space for people and a space for the extraodinary – as it is described on its homepage. The imposing building from the 19th century was completely renovated in 2014 and has been cleverly opened to the modern. Taking a closer look, there are a few more links to the German-German history beside the two Berlin Wall segments.
The acting Reverend Steffen Hunder was born in Saxony and grew up in the Rheinland. He brought this Wall segments already in 1999 to Essen, commemorating the Monday Prayers and the role of the church in the GDR.
The church was built by August Orth at the end of the 19th century, a few years after Orth had finished the Gethsemanekirche in Berlin Prenzlauer Berg.
At the same time, Hunder arranged a photo exhibition with works by Heinz J. Kuzdas.
Kuzdas has designed one the two segments. The other was designed by Thierry Noir. Kuzdas and Noir already had painted on the Wall in the 1980s. Kuzdas owns an extensive archive of photos of contemporary artwork on the Berlin Wall from the 1980s and had published some of them in two books.

Some years ago, Reverend Hunder had travelled to New York City and became familiar with the artwork of James Rizzi. Finally, this enthusiasm resulted in two new windows for the Kreuzeskirche, which were inaugurated in summer 2016. The drafts for these windows originated from James Rizzi. He died in 2011; shortly before his death he also designed three Berlin Wall segments.
Reverend Hunder about the 2017 installation of the Wall segments:
I bought this Wall segments from Heinz Kuzdas in 1999 and brought them to Essen together with Kuzdas photos of Graffiti on the Wall. Bishop Kruse from Berlin joined us for a service. After a few months the Wall segments were stored at a construction firm.
This year in September, we were able to set up the Wall segments again at a graceful place in the shadow of the church. The segments were deliberately set up with some space in between to symbolize the peaceful revolution which led to the opening of the Wall. This installation is also reminding of the important role of the church in the GDR as gathering place for the Monday Prayers.
The inauguration ceremony was attended i. a. by Reverend Rainer Eppelmann, GDR civil rights campaigner, minister for disarmament and defence of the last GDR cabinet 1990, member of the German Bundestag until 2005, now chair of the Bundesstiftung zur Aufarbeitung der SED-Diktatur, the Mayor of Essen Thomas Kufen and Thomas Rotter, chair of the board of the construction firm Allbau GmbH.
Click to enlarge:
Photo above and background:
© Detlefs Notizblog