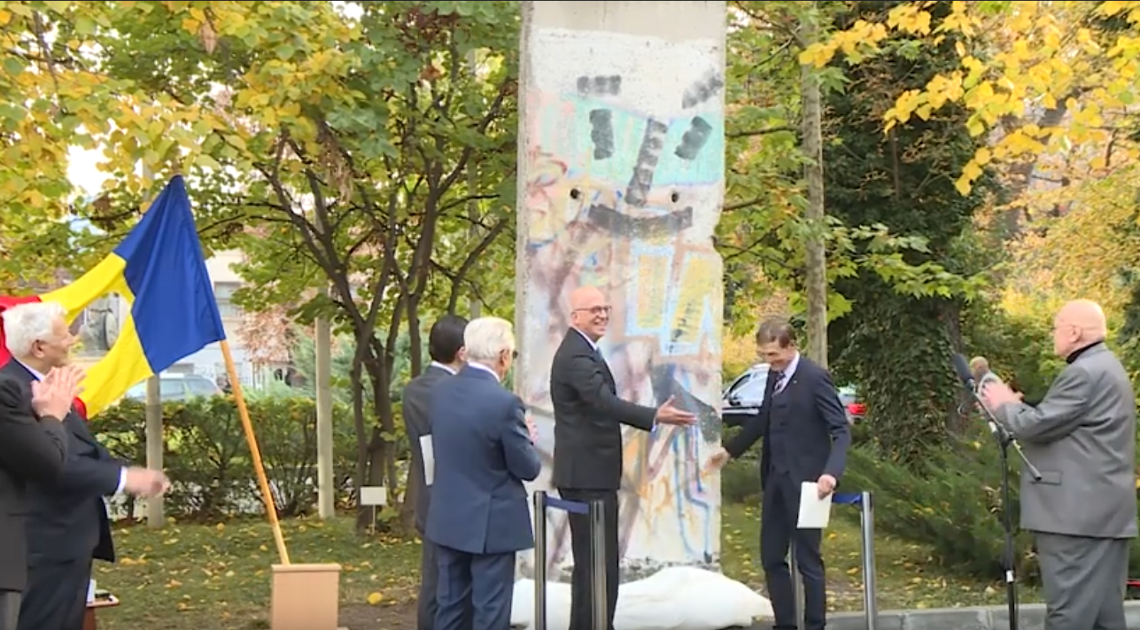 Location: Romanian Academy
1 segment
In autumn 2019, a symposium on the fall of the Berlin Wall and the Romanian Revolution of 1989 took place in the Romanian Academy in the Romanian capital. As a sign of the struggle for freedom and democracy, a Berlin Wall segment was set up in the courtyard of the academy.
The inauguration was attended by the Romanian Prime Minister Ludovic Orban, the German Ambassador to Romania Cord Meier-Klodt, the Romanian Ambassador to Berlin Emil Hurezeanu, and the former Prime Minister and Vice Prime Minister from the provisional government after 1989 Petre Roman and Gelu Voican Voiculescu.
At the inauguration, Prime Minister Orban said:
I begin by congratulating the Academy for this symbolic initiative that wants to show clearly that we must keep in mind this symbol that practically separated the free world from the world of people handcuffed, crushed, without freedom, with the dignity trampled by communist regimes. It is, for me, an honor and a privilege to address this speech that I deliver on behalf of the Government, in this distinguished hall, the founding institution of modern Romania and the meeting place of the most enlightened minds of our nation in the last century and a half.
Coming to share these thoughts with you, as Prime Minister of a government formed by the National Liberal Party, I feel all the more the historical and symbolic significance of the event that brings us together here today. The Berlin Wall has been, for 28 years, our history and, for most of those here in our lives, the material expression of an oppressive reality that many thought we could never get rid of. It is a great lesson that time offers us, making us look at the relics of one of the most sinister attempts to imprison human aspirations, having the awareness that we live in a Europe whose history without the Iron Curtain is already more longer than the one in which the Wall divided us. When it was built in 1961, the Wall seemed to be the mark of a definitive reality in front of which nothing remained to be done.
Few have done things differently on either side of the Wall, those who have understood that a regime that holds its people captive because it cannot gain their trust and loyalty is a regime that can and must be fought. The collapse of the Wall in 1989, under the enormous weight of the failure of communist regimes, was also the result of the moral and political action of those who kept hope, of those who believed that something could be done even in the face of the most brutal reality.
It is true that, unfortunately, the political memory is short. Therefore, I am grateful to the Romanian Academy, which today calls us to remember that trust, faith in people, in their strength, must be in the very heart of any political vision. As a member of a generation that lived its youth in the shadow of this symbol of tyranny, I also have the memory of the explosion of hope of that day when communism collapsed, in a real but also symbolic way, into ruin. I also have the bitter memory of the transition, but also the acute awareness of the fact that that moment at the end of 1989 was the one in which Romania recovered its destiny as a democratic country member of the European Union. But political and historical destiny is never a given, it is not a path that lies before us and that we only have to cross triumphantly; it is a duty and a lesson to be learned in life. Artificial divisions, divulging political errors are still a part of our world, Europe itself today being tested by attempts to build new walls, perhaps not of concrete, but of the even more dangerous matter of prejudice, mistrust, manipulation and harmful interests.(Source: Romanian Government)


Photo above and background:
© Still from YouTube-Video