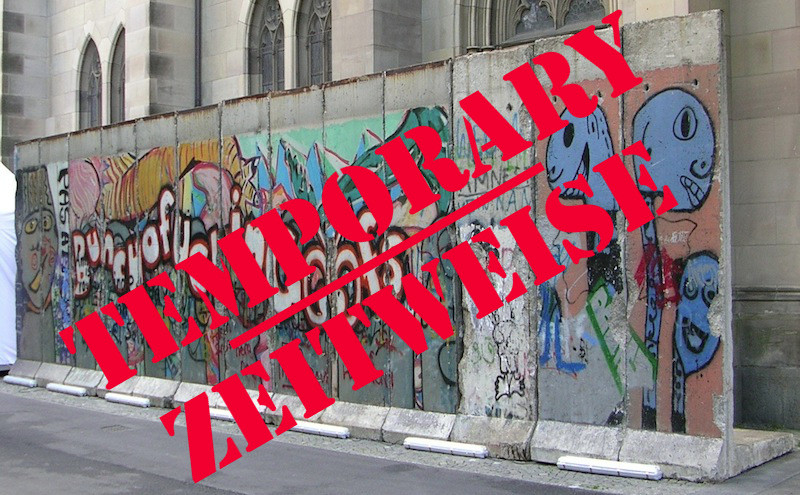 Location: Offene Kirche Elisabethen, temporary in 2007
13 segments
The Offene Kirche Elisabethen describes itself as a manifold, open minded and lively event location in the City of Basel. The Offene Kirche (Open Church) welcomes all people, regardless of their origin, faith, way of life, sexual and political orientation. It is a site for any occasion – from corporate events to art installations.
Though, the Offene Kirche was surprised by a request of ART Basel in cooperation with the BaselArea and the Gedenkstätte Berliner Mauer (Berlin Wall Memorial): to set up original segments of the Berlin Wall during the ART Basel 2007.
Showing graffiti made by Berliners during the most important art exhibition. A piece of art which had touched the West Berliners. Pictures that were going around the world, twenty years ago. An exhibition – not only historical, but also political and relevant. Reminding on a time which has just gone by. A chance for young people to face contemporary history and even to touch it and to get touched by it. An accompanying exhibition of the history of the Berlin Wall brought people together with history and with each other during the ART Basel. Intensive talks which took the history into the present. (Text: André Feuz, Offene Kirche Elisabethen, Jahresbericht 2007).
Click to enlarge:
According to a Wikipedia article, the graffito bunchofuckingoofs was spray painted in 1985 by Kieran Plunkett, a Punk musician and illustrator from London. The Bunchofuckingoofs are a Canadian hardcore Punk band with vocalist Crazy Steve Goof. After the deconstruction in Basel, the segments were exhibited in New York and afterwards auctioned off by Sotheby's. Thereafter, its traces vanishes.
The ART Basel again picked up the subject Berlin Wall in 2013, on its ART Basel Miami Beach exhibition.
Photo above and background:
© Offene Kirche Elisabethen