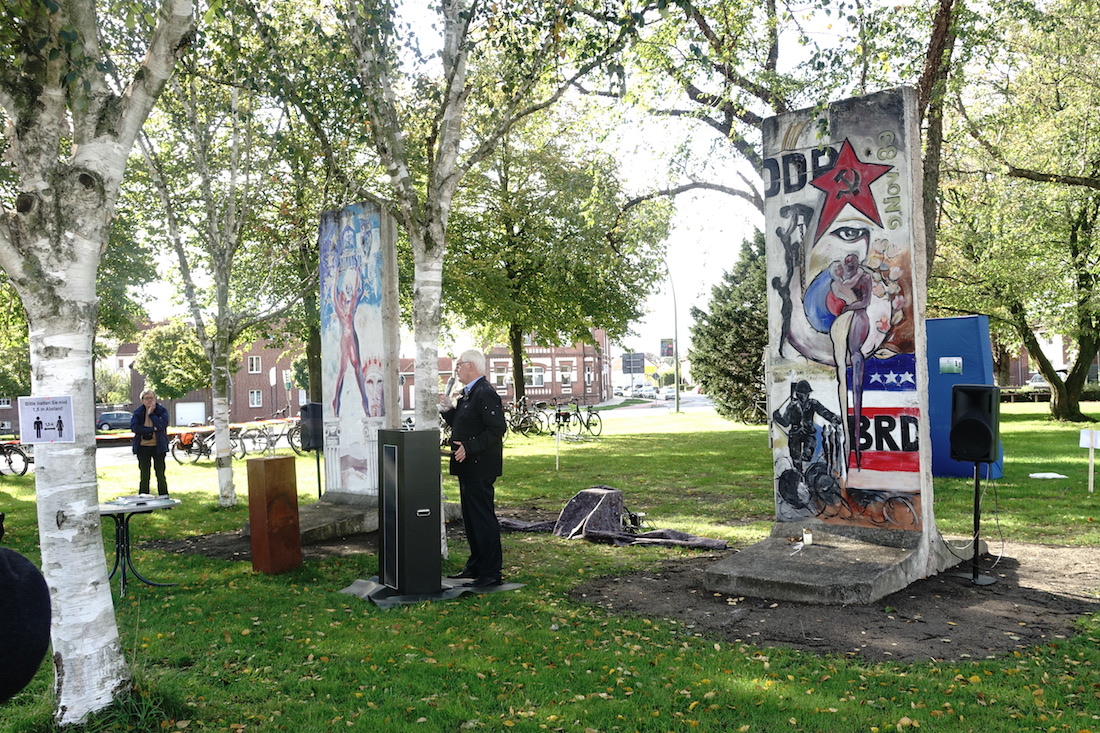 Location: in front of the police station, Seppenrader Straße
2 segments + 1 creative wall
Two segments – with their own story – of the Berlin Wall were set up in Luedinghausen in front of the police station in October 2020. "It is a memorial with relics from the past, but its message has lasted into the present and will also last into the future," said Richard Borgmann, Mayor of Luedenscheid, at the inauguration ceremony, "Freedom cannot be taken for granted and it is important to work for it every day."
Part of the memorial is a creative wall, where students can express their ideas and thoughts as parts of school projects.
The two wall segments were acquired by Baumedia GmbH in Luenen in 2007 (other segments from this fund can be seen here). From 2010 to 2015 the segments were being lent to the German Embassy in Athens – designed by the artist Alfred Gockel from Luedinghausen, who returned the segments to Luedenscheid as there was no space for them anymore at the embassy.
Eventually the Arbeitsstelle Gerechtigkeit und Frieden/ Arbeitskreis Friedensräume acquired the segments, initialised and implemented this memorial and was supported in this by the city of Luedinghausen, its citizens, the community foundation and some of the local companies.
Click to enlarge:
Photo above and background:
© Courtesy by Avant Art Verlag